RANDONNEUR
No Jeannie, not quite a lunatic ...

MORAL EQUIVALENCY

A cyclist raced through a red light and slammed into a minivan broadside, killing four family members ...

YOU DID WHAT?!

In my office today, people asked, "You did what?!" I am becoming almost reluctant to elaborate ...

MAKING FRIENDS WITH MR. TUFFY
"Whoa! How did that happen?!" I had never seen anything like it ...

DISBARRED
Have you ever wondered how you would react if your handlebar snapped off while you were riding hard?

IDÉE FIXE
I couldn't talk the poor bloke out of it. Fixation on a classy woman can do that to a man.

10 DEGREE CENTURY RIDE

"Yeah," Bill said, "How many toes do you really need, after all?"


SCIENCE EXPERIMENT: BAD AIR
I ran the experiment and was immediately nonplussed! The measurements were nowhere near "close."

SCIENCE EXPERIMENT: FREEZING WATER BOTTLES
Long before we got back to the park, I noted that my water and Gatorade both had turned to slush.

AIRCRAFT DOWN
As I write this, an old friend lies injured, awaiting help.
Dr. Laurence D. Preble is a graduate of both Vanderbilt University and Logan College of Chiropractic. He has headed research projects in computer science, psychology and biomechanics. After moving to Louisville, he wrote for both PCM and Rainbow Magazines for several years and continues in the practice of chiropractic in the Louisville area. Larry is an enthusiastic LBC Mad Dog cyclist and enjoys riding a wide variety of bicycles, including a Bacchetta recumbent, a Trek road bike, and a Santana Tandem.

Dr. Preble's Chiropractic Website: www.preble.net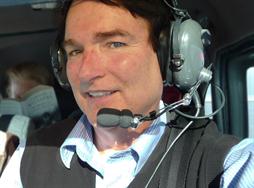 Articles by Larry Preble