S25-mile/#3 Scheller's Fitness and Cycling—version 1A

0.0 right Harrison Avenue
0.05 left Old Shelbyville Road
0.15 right Madison Avenue (Becomes Tucker Station)
2.3 right Tucker Station Road
2.7 left Tucker Station Road
4.0 left Rehl Road
5.65 left South Pope Lick Road
6.4 right Poplar Lane
7.2 straight at stop sign onto English
Station Road
9.3 left Echo Trail
12.1 right Eastwood Cutoff
12.7 right Shelbyville Road-
FAST TRAFFIC!!
12.8 left Flat Rock Road
16.7 left Aiken Road
19.5 straight on Bush Farm Road
19.7 left Old Henry Road
21.5 right Avoca Road
21.9 R/R crossing
23.0 left Bellewood Road
23.7 becomes Madison
24.5 cross U.S. 60
24.7 right Old Shelbyville Road
24.8 right Harrison Avenue
24.85 left parking lot

You made it! Thank you for riding with the Louisville Bicycle Club!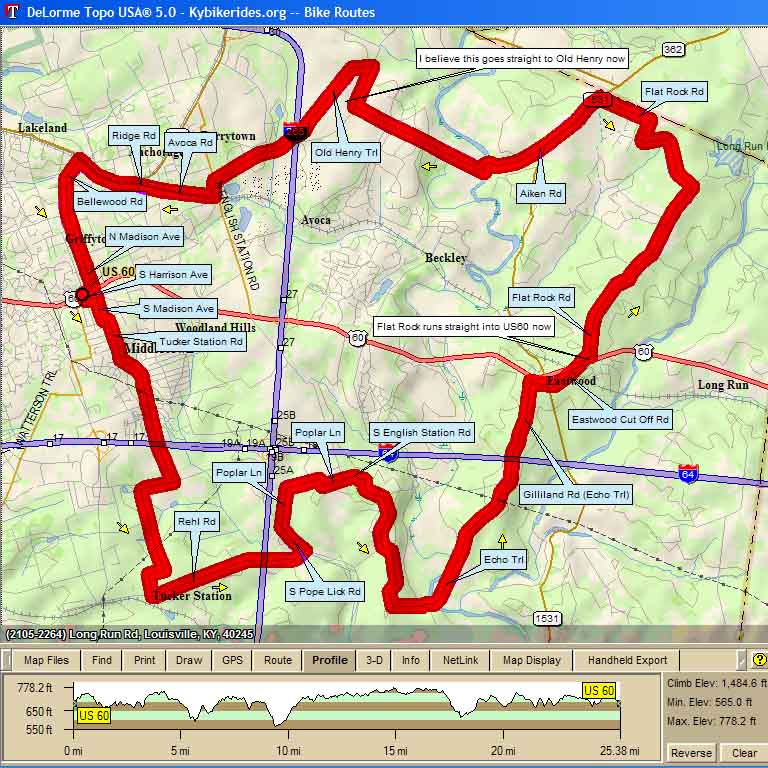 Map Images are copyright © 2006 Delorme, TOPO USA ® and are provided pursuant to their End User Licensing Agreement. Visit http://www.delorme.com for more information.