Ankle Breaker 60
This wonderfully scenic ride was first attempted April 6, 2006. It was a soggy morning, with a threat of rain. We headed out of Westport enjoying the sight of Blue Heron and Red Tail Hawks wending their way overhead. The climbs up Covington Ridge and Norville were brisk and heart pumping, effectively removing the chill from our bones. After that, the terrain settled into more or less flat river bottoms and gentle ascents to hilltop vistas.
Just out of Campbellsburg, it began to rain steadily. At the 40.6 mile mark, we were sweeping into a curve, heading downhill at 30 mph. As the Ride Captain, I called out, "Rough crossing!" and began slowing. There at the bottom, crossing Jackson Creek was a corrugated steel bridge, the kind that is reminiscent of a giant cheese grater. Ed Scharfenberger, slowed and took the crossing without incident. However, I took the curved approach at 9 mph which turned out to be just a bit too fast on the slick wet steel bridge. The left foot came unclipped as the rear wheel skidded right. It would have been fine except that the bike shoe cleat caught in the corrugated steel and spun me around on my left ankle. With a flash of pain, I found myself flat on my back with my bike resting gently on top of me, completely undamaged. Although the bicycle was unbroken, my ankle needed some repair. Six titanium screws, a plate, and six weeks later, I was riding again. (Hey, does the titanium count as a component upgrade for my legs?)
It was odd, my first group ride after the accident was led by my good friend Paul Battle who coincidentally took us right over "Ankle Breaker Bridge" on a different 60 miler out of Long Run Park. Life offers some strange ironies, doesn't it? Since then, I've ridden many steel bridges without incident, but to this day, take extra care when the roads are wet.
Despite my cautionary tale, this is a great route. The shady river bottom roads and hilltop vistas are inspiring.When you ride slowly over Ankle Breaker Bridge, tip your helmet in remembrance of, "The Ride Captain who went down with his ship." As you pass by, admire all the dents in the guard rail signifying the motorists who, from time to time, also do not make it over the bridge unscathed. Lastly, if the corrugated bridge is wet, consider walking across.
And most of all, enjoy the ride!
Larry Preble
3020 – Ankle Breaker 60
Westport, Bedford, Sulphur, Campbellsburg, New Castle, 61.0 mi Cumulative Climb: 3726'
Avg: 42 ft/mile RC: Dr. Larry Preble,
Cell: (502) 724-8477

Miles

Turn

Road

0.0

Westport Park at Ohio River

0.0

S

Main St

0.2

S

SR 524

1.0

L

Eighteen Mile Creek Rd

5.1

L

SR 524

5.6

R

SR 1488

6.9

R

SR 1488

8.6

L

Patton Creek Rd

9.8

L

Norville Rd

11.3

L

US 42

15.6

R

SR 3175

22.3

L

SR 1606

25.0

R

US 421

25.4

Stop

Gas Station on rt (Subway)

27.2

R

SR 997

32.1

L

SR 157

36.3

R

SR 146

39.3

L

Hieatt Ln

40.6

Slow

Bad Steel Bridge over Jackson Creek "Ankle Breaker"

41.9

R

Bates Ln

43.9

R

SR 153

46.0

Stop

Marathon at corner on the right

47.7

L

L'Espirit Parkway

50.1

L

Old Sligo

50.5

R

Bluegrass Parkway

50.8

R

Tobacco Road

52.4

L

US 42

53.5

R

SR 524

55.9

L

Eighteen Mile Creek Rd

60.0

R

SR 524

60.8

S

Main St

61.0

Finish

Westport Park at Ohio River

KEY:

L = Left, R = Right, S = Straight, X = Cross, Red = Caution or Stop, Green =sight worth seeing, Blue = Body of Water
Click to Interact with Map or to Download GPS Route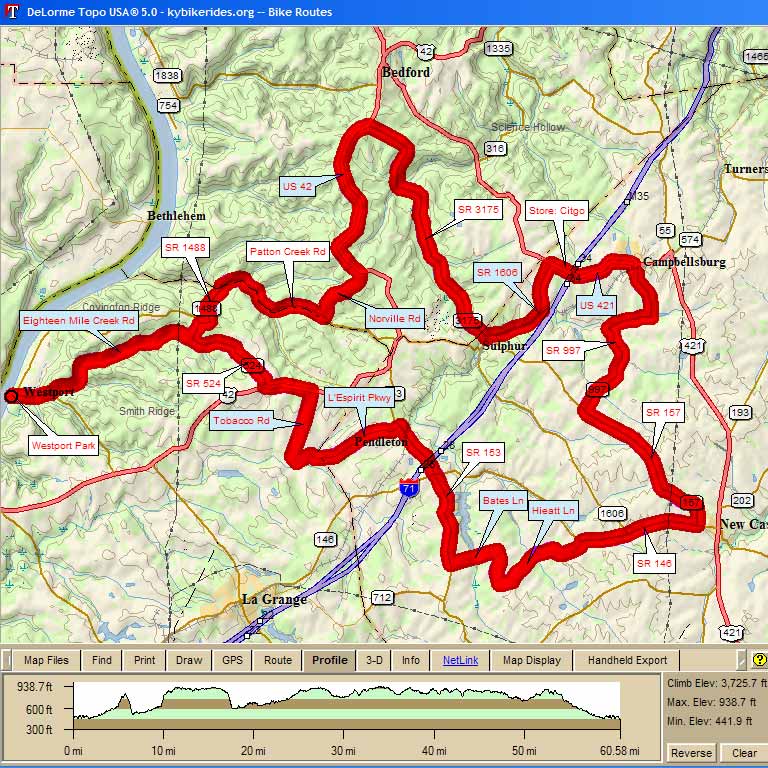 Map Images are copyright © 2006 Delorme, TOPO USA ® and are provided pursuant to their End User Licensing Agreement. Visit
http://www.delorme.com
for more information.