Corydon to Nashville and Nashville to Corydon
This trip was originally offered as back to back centuries for the Tour de Mad Dog (TMD) by Kirk Roggenkamp and Cathy Hill. There are two cue sheets on the webpage and two interactive maps with the option to download GPS files. Be sure to download both cue sheets in pdf format below.
Start at Frish's Big Boy; 125 Sky Park Dr NE, Corydon, IN 47112.
Corydon to Nashville
TMD Century (100.3 Miles)
Start: Frisch's Restaurant-Corydon IN

Total

Type

Notes

0.2

Left

Quarry Rd

1.1

Right

Corydon Ramsey Rd NW

10.5

Right

Buffalo Trace Loop/Hancock Chapel Rd NW

10.8

Left

Corydon Ramsey Rd NW

11.5

Right

Brunner Hill Rd NW

12.8

Straight

Continue onto Buffalo Trace Rd

14.0

Right

to stay on Buffalo Trace Rd

14.4

Left

Greene St NE

15.1

Optional Stop – Sav-A-Step

17.2

Left

W Palmyra Lake Rd

18.3

Right

S Big Springs Rd

20.7

Left

to stay on S Big Springs Rd

22.0

Left

Big Springs Rd

22.8

Right

S Wills Rd

24.0

Left

S Halo Rd

24.5

Left

W Vincennes Trail

27.8

Right

S Becks Mill Rd

30.7

Right

W Becks Mill Rd

33.3

Left

IN-135 N

33.6

STORE

Gas Station on Right

34.1

Right

Public Square/Westside Rd

34.2

Right

IN-135 N/N Main St

48.4

Left

W County Rd 600 S

49.9

Right

S County Rd 500 W

51.2

Straight

Continue onto S County Rd 460 W

52.0

Left

IN-235 N

54.6

Right

S Perry St

54.7

LUNCH

(Medora) Gas Station Deli or

Courtside Restaurant

55.0

Right

IN-235 N/E 2nd St

58.4

Straight

Continue onto S County Rd 650 W

59.3

Right

W County Rd 50 N

60.8

Left

N County Rd 500 W

61.8

Right

W County Rd 150 N

62.9

Left

IN-135 N

68.4

Optional Stop (Freetown) –Granny's Corner

73.7

Right

to stay on IN-135 N

80.8

STOP

Story Inn - Bathrooms & Water

85.3

Right

IN-135 N turns slightly right and becomes W Bellsville Pike

89.6

Left

Harrison Ridge Rd

91.2

Straight

onto Rinnie Seitz Rd

93.0

Straight

onto Mt Liberty Rd

93.5

Left

to stay on Mt Liberty Rd

94.5

Right

Valley Branch Rd

94.9

Left

IN-46 W

100.3

Left

Into Brown Co. Inn

Brown County Inn, 51 IN-46, Nashville IN 47448

Ride Captains: Kirk Roggenkamp 502-718-1911

Cathy Hill 859-509-4425
Download Printer-Friendly Cue Sheet
Click to Interact with Map or to download GPS Route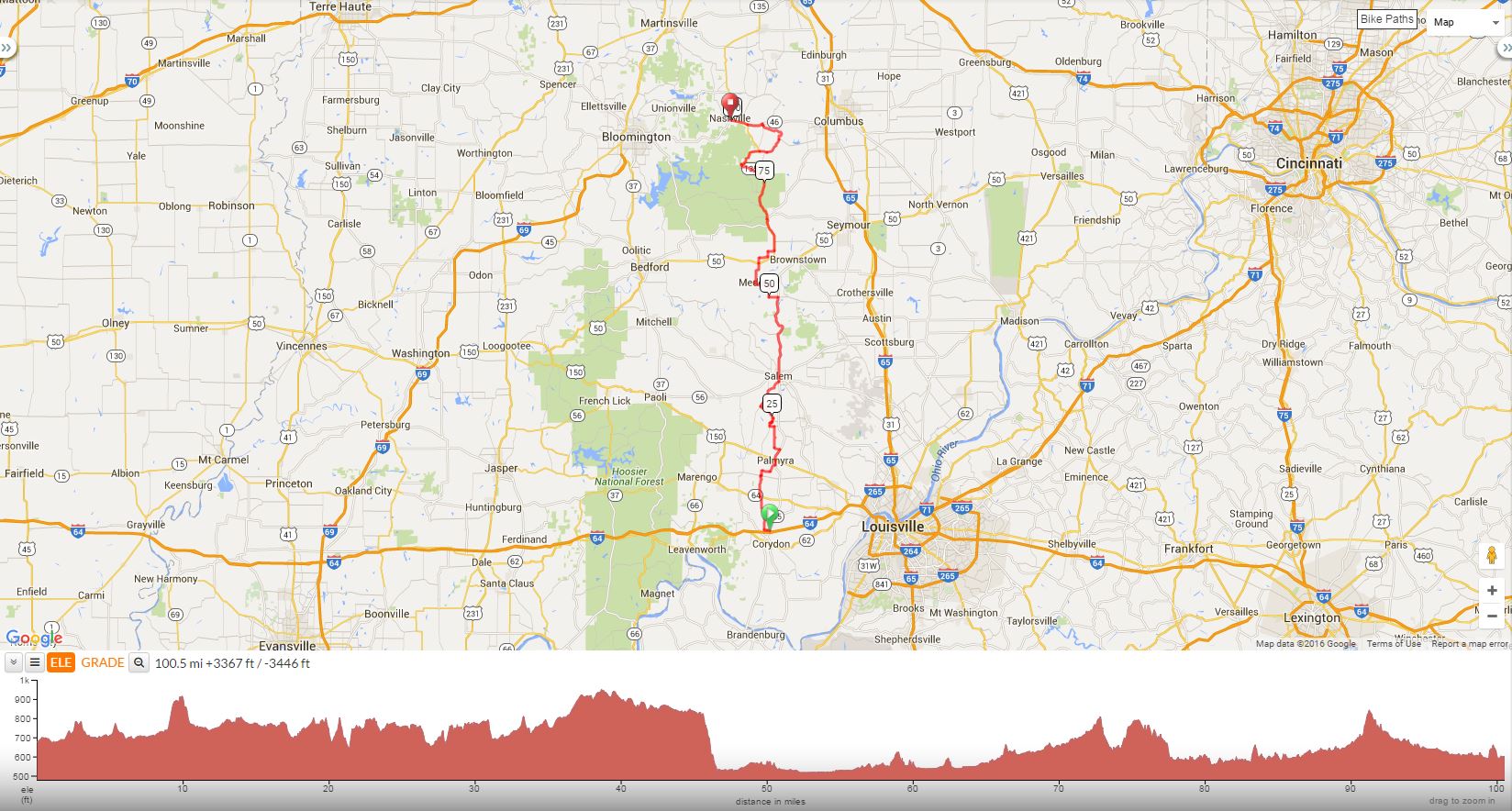 Nashville to Corydon
TMD Century (95.3 Miles)
Start: McDonald's, Nashville IN

Total

Type

Notes

0.0

Right

IN-135 S/IN-46 E out of McDonald's

2.7

Right

IN-135 S

7.7

Right

to stay on IN-135S

19.2

Left

to stay on IN-135 S

30.0

Left

W County Rd 150N

30.2

Straight

Continue onto W County Rd 100N

32.6

Jog Left

Ewing Rd

33.2

Quick Right

W Spring St

33.4

Left

N Ewing St

33.4

Right

W Spring St

34.2

Right

N Poplar St

34.5

STOP

Huck's or Dairy Queen

34.7

Right

Vallonia Rd

35.7

Straight

Continue onto W County Rd 100S

35.8

Left

Slight left onto IN-135 S

43.8

Right

W Wheeler Hollow Rd (DO NOT Climb Hill on Highway)

44.1

Straight

Continue onto N Old 135 Rd

45.7

Right

IN-135 S

57.0

Right

Public Square/Westside Rd

57.1

Right

IN-135 S/S Main St

57.5

LUNCH

(Salem) Multiple Options: Subway, McDonalds, Wendys, Taco Bell

64.6

Left

E Shorts Corner Rd

64.6

Right

Old State Rd 135

65.2

Left

IN-135 S

72.0

STOP

(Palmyra) Sav-A-Step

73.1

Left

Old East Rd NE

74.7

Right

Gettlefinger Rd NE

75.7

Left

School Ln NE

76.4

Left

W Bradford Rd NE/Buffalo Trace Loop

77.2

Right

Farmers Ln NE

78.9

Left

Nadorff Rd NE

79.4

Right

Walk Dr NE

81.9

Left

IN-64 E

82.1

Right

IN-335 S

85.1

Right

Circle Rd NE

86.7

Left

IN-135 S

86.9

Right

Lost Creek Rd NE

89.8

Left

Corydon Ramsey Rd NW

94.2

Left

Quarry Rd

95.1

Straight

To Frisch's Parking Lot

Ride Captains: Kirk Roggenkamp 502-718-1911

Cathy Hill 859-509-4425
Download Printer-Friendly Cue Sheet