4475 - Harrison County Happy Hour
24.2 mi, Cumulative Climb: 1646 ft, avg: 68 ft/mile
Start: AG Church 6080 HWY 335 Crandall, IN
Cathy Hill and Kirk Roggenkamp

Mile
Turn
Road
0
L
out of church lot onto HWY 335
0.1
L
Crandall-Lanesville Rd (cross RR tracks)
0.9
R
bear uphill to stay on Crandall-L-ville
1.5
R
German Ridge Rd
3.5
L
Hwy 335
3.6
R
Circle Rd
5.2
L
Hwy 135
5.4
R
Lost Creek Rd (cross RR track at 5.5)
8.3
X
cross Corydon-Ramsey Rd, remain on Lost Creek
9.3
R
Clover Valley Rd
10.9
X
cross Hwy 64 (

Caution!

) straight on Big John Rd
11.3
R
bear right to stay on Big John at Quarry entrance
12.1
S
straight at Stop sign (no road sign visible)
12.6
L
Whiskey Run Rd
15.8
X
cross Hwy 135 (

Caution!

) to stay on Whiskey Run
16.3
L
Oak Park Rd (no sign, watch blind hill at turn)
17.7
R
Flatwood Rd (look for Alpaca Farm both right and left)
18.6
S
straight at Stop sign to stay on Flatwood
19.1
R
Farmers Ln
19.5
L
Nardorff Rd
20.1
R
Walk Rd
21.2
X
cross Whiskey Run to stay on Walk
(

Caution!

Blind hill to right)
22.5
L
Hwy 64
22.8
R
Hwy 335
24.2
L
back into church lot
Route is marked with either yellow or pink "anchor arrows"
Click Map to Explore More Features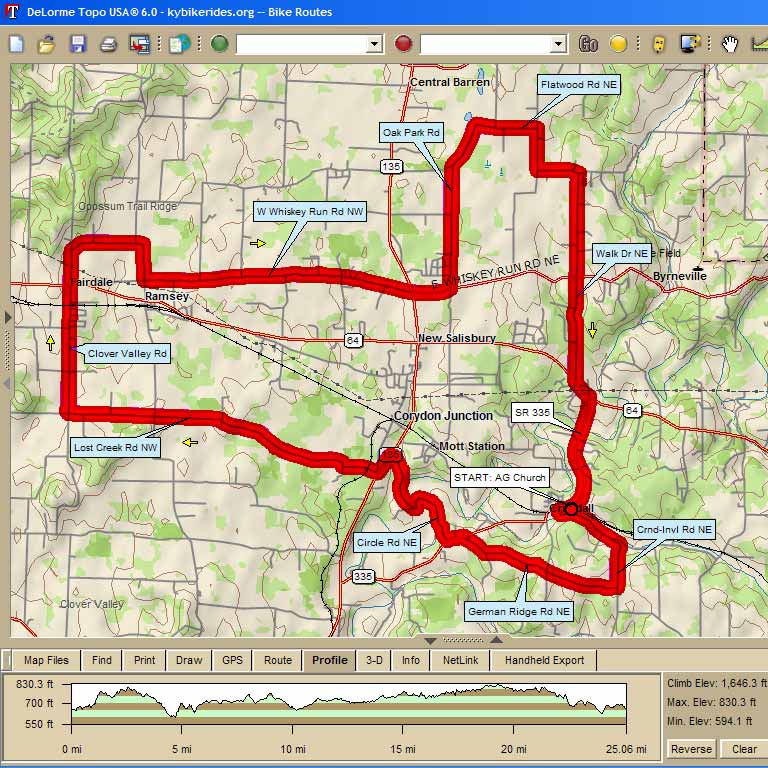 Map Images are copyright © 2006 Delorme, TOPO USA ® and are provided pursuant to their End User Licensing Agreement. Visit http://www.delorme.com for more information.