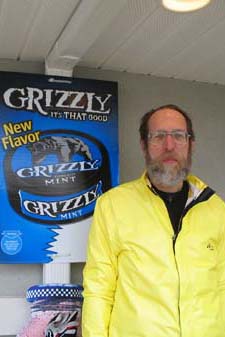 An Interview with Jim 'Grizzly' Moore
I count Jim Moore as one of LBC's VIPs (Very Interesting People.) I met Jim on the return trip from Mammoth Cave, a 125 mile ride back to Floyd's Fork park in 2002. Jim and I both needed to get back early; so, we cranked it up, and rode off the front of the pack, leaving us several hours to get to know each other. At the time, Jim had a relatively heavy steel bike, a Raleigh, I think; but if you saw him attack the climbs, you would never know it. Take a look at the photo. You may be able to deduce how Jim got his 'Mad Dog' nickname of 'Grizzly." In addition to being an LBC Mad Dog, Jim 'Grizzly' Moore is also a frequent poster to the Big Dog site. Here is what Grizzly has to say about Grizzly!
Jim, can you tell me about your early years, any notable life events?
I was Born October 1, 1948 in southern Mississippi and grew up in New Orleans earning my degrees at Ole Miss and Florida State. I taught at community college in Dyersburg, TN for 5 years, then moved to Campbellsville in 1980. Now, I'm a professor of Music at Campbellsville University where I teach music theory/composition and guitar.
When and where did you get started cycling?
I rode a lot as a student at FSU and did my first 50-mile ride. I didn't start riding seriously again until 1999. I completed my first century in 2000. Then in 2001, completed 17 centuries; 25 in 2002, 28 in 2003, and 40 in 2004.
Why did you get started cycling?
I needed to get more exercise and lose weight to control high blood pressure. Found that cycling was good mental/emotional therapy as well as physical.
Tell me about your family. Do any of them
like to join you on rides?
Wife Nevalyn is a music professor at CU also. She joins me biking occasionally, short rides only.
Children: Brian, Chris, Bonnie, Jenny, Matt. The first four are married and gainfully employed (hooray!). Matt is a sophomore at CU. The first three ride with me occasionally.
What is it about cycling that brings you the
most pleasure?
Exhilaration! Whatever the season, whatever the weather, I like being outside, a part of it all. I like to feel the wind in my face, to smell the wildflowers by the side of the road, to hear the cattle bellowing and the leaves rustling. I like barreling down a hill at 40 miles per hour with the pavement streaking past inches below my feet. I like working hard and getting tired; I like to sweat. A long bike ride, all alone, is a meditative experience; a time to do your best thinking.

Exploration! I love getting from here to there under my own power and seeing new places. I love maps. On a bike you can explore a lot more territory than if you were on foot, but compared to a car you are traveling slowly enough to be able to take in all the sights.

Transportation! It's great to be able to get around town without having to crank up the car every time.

Friendships! Long-distance cycling is exhausting work, but having friends to ride with makes it fun.
In a culture that gets faster, more frantic, and more fragmented day-by-day, cycling gives us a chance to slow down, to share the long versions of our stories. I have gotten to know so many interesting people that I wouldn't have met otherwise.

Hobby! It's fun to collect things, not only biking clothes, shoes, and equipment, but also roads and
miles: visiting new roads you've never been on before, striving for mileage goals.
What qualities would any particular ride have to make a great riding experience for you?
I like rides that feature unusual places to see or things to do, rides that have a particular destination or a particular challenge. When I develop routes, such as the recent Fall Colors Century, or the upcoming (maybe in May) Iron Legs Century, I try to include unusual or challenging features to make the ride more interesting for me as well as everybody else.
Do you have any cycling goals?
I'm going to aim for 11,000 miles in the year 2005, including 40 centuries.
What prompted you to start Ride Captaining?
We have some beautiful places to ride in Taylor and surrounding counties. I wanted to show them off to my LBC friends.
How do you go about putting together routes for your rides? For example, do you use only the roads you know or do you pour over maps to find just the right routes? Do you bike the route solo first?
I like to study maps and find new places to go. Sometimes I bike the route solo, but not always.
How did you discover LBC?
Feeling isolated in rural central Kentucky, I did a web search to find the clubs in Louisville, Lexington, and Bowling Green. I joined the LBC list server and 'lurked' for about 6 months. I rode the OKHT in the fall of 2000, then joined the newly-formed Mad Dogs in February of 2001.
Quickies: Do you engage in other athletic activities?
Canoeing and racquetball.
Would you share some favorite cycling tips?
For rainy weather, I can't get a baseball cap under my helmet, but instead, I have a stretch helmet cover that I leave in place all winter long. When it's raining or snowing, it keeps the precip from entering the helmet. It keeps my head a little warmer, but still provides ventilation.
I have agonized for years how to keep my feet warm in the winter. I have found the solution, ironically, in sandals. I can wear 3 or 4 pairs of socks if I want, and still get my feet into the sandals, where they would be impossibly tight in regular shoes. For really cold weather, I wear booties over the sandals.
Thanks, Grizzly. I know we'll see you on the road!