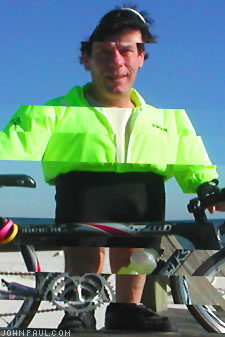 An Interview with John "j. art dog "Paul
Don't e-mail me about the picture. John Paul meant it to look like that. If you have the art appreciation gene, you know that, right? John Paul is a Mad Dog who knows how to remake himself in his own image! The word, "iconoclast" comes to mind. The picture he submitted seems to fit the definition. (Did I get it right, J.P.? Oops, never ask an artist to explain the meaning of his work.)
I've known John Paul almost as long as I've been an LBC member. Aside from being a proficient century rider, I can always count on him to challenge my habitual thought patterns with opinions and views wonderfully out of the ordinary. Caution: Fuddy-duddies should seek professional counseling before viewing the following comments.
John Paul, can you tell me about your early years, any notable life events?
Born April 8th, '53, an Aries twin. Grew up in Johnstown & Monroeville, Pennsylvania (the same place as Grasshopper!). My father died suddenly of heart disease at age 44, on my 10th birthday. I suddenly found myself living in sunny Winter Haven, Florida & riding my J.C. Higgins bike everyday. Worked on the radio after high school, then got into TV broadcast engineering, which brought me to Louisville & WHAS-TV at age 21. The thought of working all of my life caused me to change course and pursue my real interest - ART! Studied at the Louisville School of Art, while freelancing in film & video, and living the simple life at my country retreat in O'Bannon, outside of Anchorage, KY. Got into graphic design when computers became widely used for art in 1987. I have eked out a living with them ever since. Never married - no kids.
What prompted you to begin cycling?
After my mother died suddenly in '97, I realized I was the next to go, I rushed over to Clarksville Schwinn to start getting serious. On my first century, Horse Dog's Honest Abe, in the summer of 2000, I got lost, the guy I was riding with started crying. He never rode again. I realized I had been blessed with cycling legs and showed up for the first LBC ride to be called "Mad Dog" in 2001. In 2003 I rode 6,000 miles, after that I quit counting miles.
What excites you about the 100 mile Century Rides?

Fine Belgian ales afterward.
Ah yes, I remember you introducing me to "Grimbergen Blonde" at the Cycler's Cafe. Aside from that, what is it about cycling that brings you the most pleasure?
Constantly changing, in your face, maximum sensory input. The visual input alone that you get on a bicycle cannot be matched any other way. It's better than most drugs. It's the best way to travel. It doesn't pollute and builds stronger muscles. I currently have 6 bikes, one for almost every occasion. I'd like to have many more but storage gets to be a problem.
What qualities would any particular ride have to make a great riding experience for you?
I love riding anywhere that I have never been before. Preferably surrounded by nature, fabulous scenery, great architecture, and very few fossil-fuel powered vehicles. Good company is great too, that's what makes a tour like RAGBRAI a blast. Mostly, the meditative qualities you get from clearing your mind of distractions and letting the bicycle transport you into your experience.
Do you have any cycling goals?
Try not to be hit by a car, or truck. Try to be better prepared to get moving again after any mechanical problems I may encounter on my journeys. Maybe ride around the Earth counter-clockwise on a bike, twice, to try to cleanse my soul.
What prompted you to start Ride Captaining?
Being a unique and creative individual I had the great idea to ride captain only original rides on roads that no one had ever ridden on before. I had lots of great ideas and places in mind to do this and put one together in 2002 in a cemetery that doesn't allow bicycles. Unfortunately, the bike club executives took control of the ride from me because it was so incredibly popular, which caused me to lose interest in creating unique rides.
That was a fascinating project! How do you go about putting together routes for your rides?
I think about places I've never been allowed on a bike and wonder what it would take to get them to let bicyclists ride on the property.
I'm sensing that iconoclastic theme again! How did you discover the LBC?
When I came to Louisville in '74 there was a now extinct bicycle shop in my neighborhood, in the 1000 block of Bardstown Road. I befriended the mechanic there and bought my first, used, road bike from him. He told me about the Louisville Wheelmen. Unfortunately, I worked in the evenings and on weekends and never took the time to hook-up with them until much later, after meeting Cheryl Brawner through a mutual friend.
Do you engage in other athletic activities?
I love speed walking & hiking, it's good for the lower back. Weight-lifting is great too for building upper body strength, something cycling doesn't do enough of.
If you have a particular cycling tip to share, what would that be?
Seize the lane and don't let motorists intimidate you. Be an educated cyclist and ride with pride and confidence. It will build your character in more ways than anyone passing you in a gas-gulping death-mobile will ever know.
Anything else you'd like to mention?
My 2002 OKHT Jersey design let even the Mad Dog wannabes wear the Mad Dog icon, as seen in on my website. The 2 different Mad Dog temporary tattoos I designed for the club have been seen all over our great land, and the history of the Mad Dogs are forever enshrined with a Mad Dog Web site that shows the world we are a classy bunch of riders. I've also designed two exclusive Mad Dog jerseys, the first one gets printed with the rider's name, and the second jersey design is still on the drawing board. There is also a constantly expanding line of Official Mad Dog merchandise available on their Web site.
Thanks, John Paul! I wish you much success practicing your art!