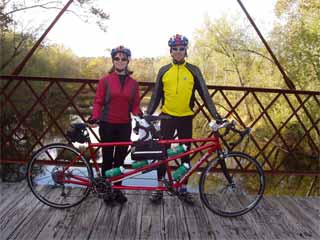 An Interview with Double Dog Flash!
Vicky and Ron Dobbs are well-known to LBC members as the dual Mad Dog's on their tandem--Moniker: Double Dog Flash! The "Double Dog" part is easy to deduce; as for the flash, Vic is often seen with her flash camera in action. Her photos are featured on the Louisville Bicycle Club website.
Vic, for starters, would you tell us where you have lived, what work you do, any notable life events.
Both Ron and I were born and raised here in Louisville. We met in high school and were married the summer of 1971 just after I graduated. We will celebrate our 34th wedding anniversary in June. One theme that you hear repeated about a tandem team – you must have a strong marriage/relationship? Maybe in our case, the years tell the story.
Do tell! So, cycling is the tie that binds. When and where did you get started cycling?
Ron bought me a bicycle with a baby seat shortly after the birth of our first daughter, Allison, in 1976. Many mornings, before going to work, I was out with Allison in tow circling our neighborhood. The seat remained on my bike when we had our second daughter, Angela, in 1981 and the bicycle rides continued. I then bought Ron a bike. We still own our first bicycles.
What was your biggest motivation to start cycling?
We've always enjoyed being outside. When our daughters were small, we would often spend weekends at Patoka Lake camping and riding our bicycles on the paths. By this time, both girls had their own bicycles and bike riding, as we called it, became a family affair. More recently, we have ridden our bikes along the Riverwalk with our dog attached to the seat of my bike.
How did the Louisville Bicycle Club enter mix?
My daughter and I began attending the LBC bike handling classes through an invitation from a neighbor. We thought that Ron might also enjoy cycling, especially as a new way of de-stressing from work. He began coming to rides after we told him how much fun we had had at the Monday night classes.
Have you always ridden a tandem together, or is that a recent change?
The tandem is new for us.
And you two look marvelous on it! What do you like about riding a tandem?
Arriving in the parking lot at the same time is definitely a plus. Ron has always been a faster rider and would have to wait for me to finish each ride. I couldn't ride any faster and I didn't expect him to ride slower. It was Ron who suggested we buy a tandem. So, we bought a used Burley, which we rode for one year, decided we really liked to tandem ride, and invested in the Santana.
It is a big leap from Monday night bike handling classes to hundred mile "century" rides. What prompted you to take up distance cycling?
Spending more time with the wild and crazy LBC cyclists.
I guess that's as good a reason as any. What is it about cycling that brings you the most pleasure?
Definitely, it is the people with whom we ride. Each ride is a blast of fun, even when the weather conditions aren't. I also love the health benefits of cycling. I've had a life long problem with sinus headaches. Since I've taken up cycling, my headaches have drastically decreased both in frequency and intensity.
There's no doubt that cycling is good for your health, but what qualities would any particular ride have to make a great riding experience for you?
Great rides revolve around good friends and food. I particularly enjoy the rides that we stop for lunch or dinner and/or stay overnight.
Do you have any cycling goals?
My goal is to stay as active as possible for as long as possible. I would like to follow in Bernice Martin's example. She is quite an inspiration.
Bernice knows she is one of my heroes too. We all admire her greatly. Do you have any particular advice for aspiring distance cyclists?
Ride a tandem.
I guess I should have expected that response! It does seem like double the fun. What prompted you to start Ride Captaining?
After riding for two seasons, it only seemed right to share the load.
How do you go about putting together routes for your rides? For example, do you use only the roads you know or do you pour over maps to find just the right routes?
There are very few "new" routes. Ron and I saw the Westport store and thought it might be fun to ride there for lunch, hence Wheeling to Westport . A friend of mine, who lives in Shelbyville, helped me map a route to Buffalo Crossing. Remember, I like to stop for lunch.
Do you bike the route before you offer the ride to the club?
No! Let me tell you that the road looks a lot flatter in a car. Live and learn.
Can you share a few quick favorites of yours? What is your favorite bike, other athletic activities, favorite cycling tips.
I especially enjoy the Wednesday morning rides. These rides are never hurried. The distance usually ranges from 25 to 60 and many riders stop for lunch at the halfway point.
Anything else you might like to add?
We've made a lot of great friends in the LBC.
Thanks Vic! You two are a constant inspiration to aspiring distance cyclists and aspiring couples!